Durham Hardwood Floor Refinishing
Refinishing hardwood floors provides your house or building with many benefits that are definitely worth the cost. For all your Durham, NC hardwood floor refinishing needs, Right Step Flooring is here for you.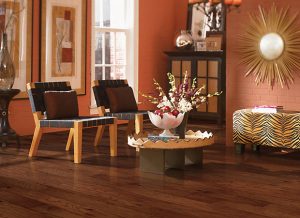 Hardwood is perhaps one of the most long-lasting floor materials available in the market. No wonder it is the most popular among property buyers, as it makes any home increase in real estate value. Hardwood is known to be so durable that even its aesthetic quality lasts until a century-that is more than the lifespan of almost all other floor types available in the industry.
But no matter how durable hardwood is, it is still not immune to damages and wears over time. It still receives daily foot traffic and accidental scratches, spills, or even dents and moisture damages. Revitalizing the quality of hardwood as necessary is vital to the preservation of its value.
Here at Right Step Flooring, you can have all you need to refinish your hardwood floors and bring them back to their original glow. As your top-notch flooring company, we are dedicated to bringing you only the highest quality of floor improvement services. Call Right Step Flooring today and get your newly revamped hardwood floors in no time.
Call Right Step Flooring at (919) 804-8622 for your Free Consultation!
Your Best Durham Hardwood Floor Refinishing Experts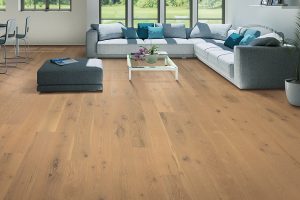 Hardwood refinishing is the process of restoring a wooden floor's original luster and look due to damage and wearing out through time. It may involve a simple buffing session or a full sanding process depending on the severity of the floor damage. Layers of finishing substances are then applied for an ultimate restoration look.
This process can be done as a DIY project. But by hiring a professional floor company to do your refinishing, you can guarantee a smooth, high-quality, and cost- and time-efficient refinishing process that only trained experts can pull off. Refinishing involves technical equipment like a buffing tool or a drum sander. You will also need to get the perfect finish for your floors.
With Right Step Flooring, all your Durham hardwood floor refinishing needs can be met with professionalism, excellence, and efficiency, all for the fairest prices in the market. We are a home improvement company specializing in floor construction and design. We know we have what it takes to revitalize your hardwood floors and make them as good as new. Our floor specialists are dedicated to providing you with high-quality floor refinishing services through our finest tools and resources. Restore the original beauty of your elegant hardwood floors with Right Step Flooring today.
Benefits of Hardwood Floor Refinishing
Though they seem to be, hardwood floors don't last forever. Like other floor types, wood will take occasional polishing and restoration to sustain its quality. Refinishing them with a professional flooring company may seem to just be an extra expense for your family or company, but there are significant benefits that it can provide.
Refinishing preserves value. The worth of hardwood floors to houses and buildings is based on their structure, look, and function. They provide great support for heavy appliances and furniture, add temperature regulation and sound damping, and pull off a classic, natural aesthetic unique to its material. All these benefits depend on the quality of hardwood floors that inevitably diminishes through time. Worn out floors won't look good or sustain as much foot traffic as it originally does.
When you decide to sell your property, buyers may not recognize your hardwood floors' worth if they are worn out. Refinishing processes will restore these benefits and preserve the sought-after quality of your hardwood floors.
Worn out floors obviously pose safety risks for your home or business place. Getting them refinished will decrease the likelihood of accidental slipping, falling, or tripping. Your Durham hardwood floor refinishing experts at Right Step Flooring will make sure that all signs of wear on your floors are covered.
Moreover, floor damage, no matter how minor or major, are gateways to further, more complicated problems. Refinishing your floors not only brings back the original quality of your floors. It can also potentially help you save more money as you avoid future complex floor issues. So what are you waiting for? Contact us today and receive the best Durham hardwood floor refinishing services you can get in town!
Let's Talk – Free Consultation
Here at Right Step Flooring, our main goal is to provide our clients with only the highest quality of floor improvement services available in the industry. We offer a comprehensive set of services, from floor installation, repairs, refinishing, and handyman services to customer support, consultations, and project management. We are ready to take on whatever you need to get the best floors for your residential or commercial space.
Ready to have your hardwood floors refinished by leading experts? Contact us now so we can start our project with a free and no-obligation consultation with one of our Durham, NC hardwood floor refinishing specialists. We can't wait to work for you!
Call Right Step Flooring at (919) 804-8622 for your Free Consultation!